IMPACT 13.2: Vision Device Master

Vision Device Master

Datasensing is pleased to introduce the Vision Device Master, now available in the MX-E family of Vision Processors. This feature represents a significant step forward in supervising and logically controlling results for multiple inspection systems, offering a new level of control and versatility to your vision systems.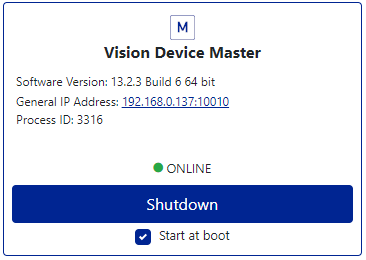 Integrated Management: Now you can manage up to 8 devices with a single Vision Device Master, streamlining recipe operations, field bus communication, and result collection.

Maximum Uniformity: This new vision device is 100% identical to any other vision device, featuring the same powerful tools, capabilities, and user interface. Compatibility is seamless.

Constant Readiness: Thanks to the absence of the image acquisition event, your vision device is always ready to collect results without being locked in resource-intensive image processing tasks.

Efficiency and Precision: Result collection, global pass-fail generation, and system communication are seamlessly handled by the Master Vision Device.

Integrated PLC: With native digital I/O from the MX-E family, this Vision Device Master can function as a PLC, offering a simple and cost-effective development environment.


Soft Real Time Process:
Soft Real-Time process-like, it is instantiated on a CPU core, ensuring high responsiveness and reliability for industrial use.
This feature is ideal for situations where multiple vision devices inspect the same object, such as inspections of large images, detailed label checks, complex connector stamping, and more.
Enhance your efficiency and precision with this revolutionary evolution in vision processors.
Discover how this feature can improve your vision systems today!